Written by Nalia Irani on Friday 27 Nov, 2015
Bone densitometry is an X-Ray also known as Dual Energy X-Ray Absorptiometry (DEXA), the test is performed to measure bone loss so your doctor can determine if you have osteoporosis or are at risk of bone fractures.
Osteoporosis, or "porous bone" is a disease in which bones lose density which can lead to fractures, pain and deformity. You may not even tell if you have it until you receive a painful fracture, so early detection is important.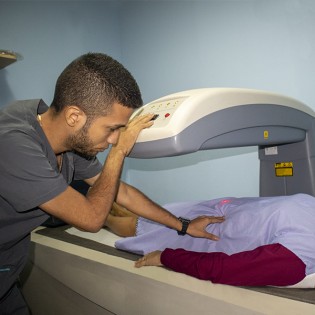 Bone density testing is performed on the bones that are more likely to break because of osteoporosis, including:
Bones of the lumbar spine (lumbar vertebrae)
The narrow neck of the thigh bone (femur), next to the hip joint
Forearm bones
The amount of radiation to which you are exposed is very low, much lower than the amount emitted during a chest radiograph. The test takes about 10 to 30 minutes.